The Secret to Successful Hiring in an Enterprise
May 03, 2018 by Admin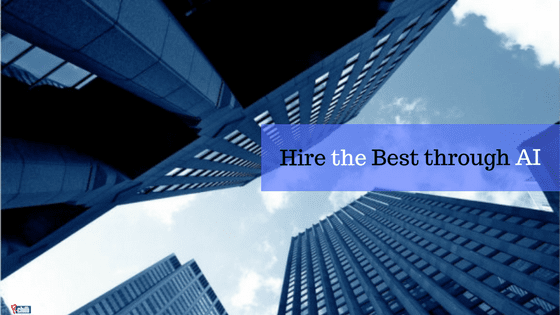 Artificial intelligence has been a part of the news for quite a long time. Automation and robotics are transforming various aspects of every industry, and everyone wants to know how it will affect their job.
AI is also reshaping the talent acquisition process in enterprises. Recruitment is a crucial area which is the foundation of a company's growth. There is no doubt that right talent will result in more productivity and efficiency. Thus, HR managers or recruiters should always focus on roping in the best talent. However, enterprises are not able to explore recruitment to its full potential. There are many loopholes in the system for which they need a concrete solution.
Shortcomings in the recruitment process
Being a large organization, an enterprise receives thousands of resumes every day.

Managing such a huge data

is completely out of the question. It is impossible to go through all resumes manually every day.
Recruiters tend to

lose relevant resumes

while screening them manually. They do not even read all of them.
Lengthy forms

on the career page of their website make candidates leave the page.
Collecting resumes from various folders, desktop, email

and saving them in the database is quite a cumbersome task.
Sorting out resumes

based on experience, education, skills, etc. is complicated. Recruiters waste a lot of time while carrying out this process.
What can help enterprises in overcoming these challenges?
Artificial intelligence is the answer to this question. That's right! To be precise, recruitment analytics solutions can help enterprises streamline their recruitment process. The present scenario in recruitment makes it necessary for organizations to adopt parsing, matching and enrichment solutions.
A resume parser helps in finding the best fit through automatic candidate resume insertion

and

updating the database with recent resume entries

.
It

parses resumes in real-time

. An average speed of parsing a resume is less than a second. Thus, there is no manual intervention required from HR.
It also

uploads resumes in bulk, extracts details from them and saves in 100+ data fields

. This makes it easy to sort out resumes based on skills, experience, education, etc.
Semantic match provides relevant candidate recommendations based on similar keywords and alias for skills.
Recruiters can also make use of

resume enrichment for getting updated information about candidates. It corrects any missing or misleading information about the candidates.
Another important aspect which we should not miss is

getting excellent user experience to candidates

. A resume parser facilitates quick resume submissions. With a quick resume upload by the candidate, the fields are automatically filled in by the software.
These solutions ensure minimal exit rate of candidates from the enterprise's websites. A strengthened database helps in delivering quality results. The ultimate gain is that recruiters can close jobs quickly and the entire recruitment process is automated. Thus, it's time you invest your money in bringing automation to your current hiring system.