Top 10 Upcoming HR Tech Events 2022
April 25, 2022 by Rohini Sood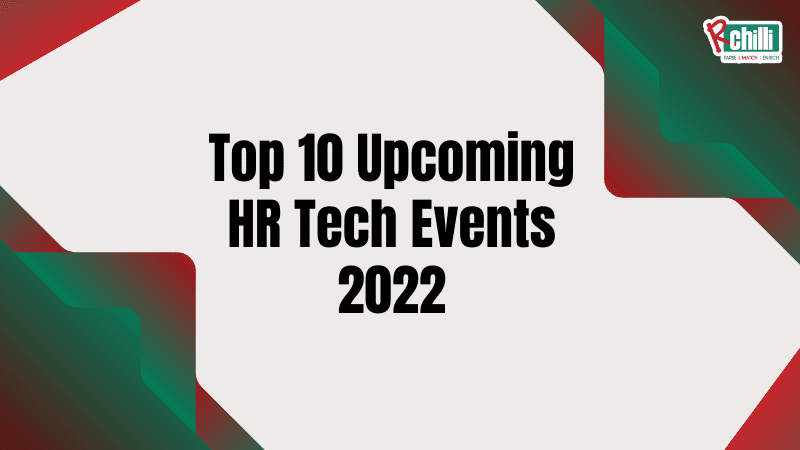 Want to enhance your HR skills and stay current on recruitment industry trends and developments? Here's some assistance! We searched the web to compile this list of the best in-person and virtual HR conferences. Scroll down to see the list.
Do you want to know which HR conferences to attend in 2022, digitally or in person? We have compiled a list of top 10 HR conferences, both virtual and in-person, that may interest you. These global events address a broad spectrum of issues, comprising HR tech tools, AI and automation, talent acquisition, and much more.
Virtual | May 3 - 4, 2022
The two-day virtual event will focus on talent acquisition, people analytics, future of work, AI in HR, and digital adoption, to name a few. HR Tech Europe will bring together the renowned HR practitioners, technologists, and partners, building tomorrow's future-ready solutions.
Virtual | May 10-11, 2022
HRTech Americas 2022 brings together the latest, cutting-edge insights from prominent thought leaders in HR. Learn how talent acquisition leaders use HR technology to hire ideal candidates during this virtual event. Additionally, get to know more about the impact of AI and automation and other HR tech tools to leverage hiring.
Virtual | May 18 - 19, 2022
HR Core Nordic has a comprehensive plan for the two-day online event - HR Technology, employee experience/ engagement, people analytics, AI & automation. Over 3000 HR professionals and 30+ expert speakers will come together to discuss the future of work influenced by technology in HR at the 2022 edition.
Las Vegas | May 25 – 26, 2022
Unleash America brings together visionaries, investors, entrepreneurs, industry leaders, potential customers, and future partners in a dynamic environment. Discuss the latest in HR technology, talent acquisition, and succeeding in challenging times at Unleash America.
Amsterdam City, Netherlands | June 2-3, 2022
The 5th Annual International HR Forum 2022 will bring together the learnings and expertise from some of the most prominent organizations globally. Learn and network with HR industry leaders from the field of employee experience, HR, future of work, and diversity and inclusion.
Las Vegas | June 12-15, 2022
Ascend is presented by the Oracle Applications & Technology Users Group (OATUG) and Oracle HCM Users Group (OHUG). Ascend offers insights, strategies, and opportunities to connect with potential partners and other Oracle global user communities.
Attendees of the Ascend 2022 will learn about Oracle products, automation, chatbots, talent acquisition, onboarding/offboarding, and workforce analytics.
London, United Kingdom | June 21-22, 2022
Explore the HR landscape with HRtechX and understand how technology impacts recruitment and onboarding. Dive deep into how recruitment processes will change in the digital age and the changes it will bring along.
Virtual | July 25 -29, 2022
Talent Acquisition Week is perfect if you are enthusiastic about HR and learning the latest HR technology to attract a vast talent pool. Learn more about adjusting to an ever-changing labor market and its demands in this virtual conference.
Learn how to attract talent using the latest technology and discover ways to ensure that your TA team effectively manages and strengthens its post-pandemic tactics.
Indianapolis | August 29-31, 22
The HR Indiana Conference is one of the US's major regional human resources conferences. After their virtual 2020 conference, the 2021 annual conference was a resounding success, with incredible speakers for the event.
The conference will provide three days of instructional presentations and networking opportunities. What's more? Gain insight into some of the latest HR solutions and technology and a chance to reconnect with fellow HR professionals from across the country.
Las Vegas | September 13-16, 2022
The HR Executive Technology Conference will be held at Mandalay Bay in Las Vegas, Nevada, September 13-16, 2022.
All HR and IT professionals will benefit from the pioneering technology solutions provided at this event. The focus of this event is on leveraging technology to drive HR success. Those looking to optimize their HR processes continuously may be interested in the conference. The HR tech marketplace also provides access to hundreds of vendors – under one roof.
That concludes the list of the top HR conferences in 2022. Did we leave anything out? Please let us know to keep our list up to date. We, at RChilli, hope you enjoy the events and have a fantastic 2022 filled with lifelong learning, knowledge, and growth.