Top 5 Biggest Challenges When Managing Global Recruitment Data
September 24, 2020 by Navjot Kaur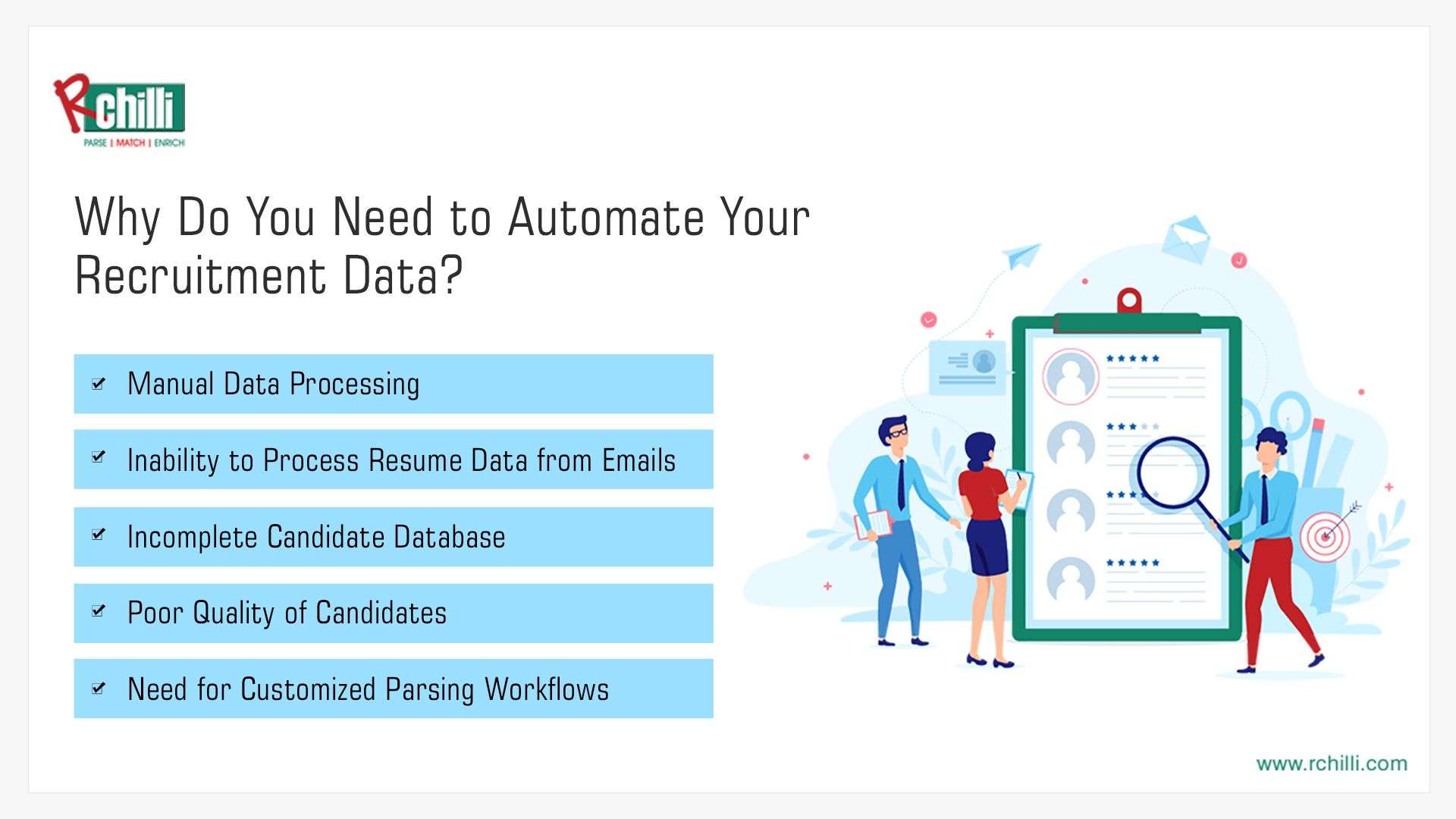 How efficiently are you managing your recruitment data?
If you are thinking about the answer, you should probably read this article.
Our clients come from all sides of the talent economy-ATS, job boards, staffing, enterprises, and startups. During our discussions, we have noticed that they face similar challenges. In fact, these challenges made them automate their recruitment data processing.

Let's talk about these challenges and why automation is the only answer to handle them.
Manual Data Processing

Managing the recruitment data manually is a tiresome task. It not only consumes more time of recruiters but also puts a negative impact on their productivity. AI tools like resume parser can speed up this process by extracting resume/job data and saving it in data fields. Thus, technology and automation clearly allow the recruiters to save time on data entry.

Inability to Process Resume Data from Emails

Let me take an example of a job fair. While attending a job fair, the candidates send their resumes directly to your email. Searching resumes from your email and screening them one by one to see if they match your requirements is time-consuming. There are HR technology tools that can simplify this entire process by extracting resume data from emails and putting it in a structured format.
Incomplete Candidate Database

We all know that the resumes lying in our talent pool will be our savior if we immediately need to fill up a job position. But are these resumes up-to-date and have the complete information of candidates? HR technology can enrich your resumes by updating the candidate information from the social profiles.
Poor Quality of Candidates

Are you providing less than optimal candidate shortlists that waste time or damage employer reputation? Unstructured data often leads to misjudging the candidates. The recruiters might miss out on the relevant resumes while screening a plethora of resumes by themselves. Automating the resumes/jobs processing helps you in choosing the perfect candidate in a fraction of time because the recruiters get structured data in seconds.
Need for Customized Parsing Workflows

Is your resume parser delivering the desired output? If you are getting resume information in the data fields you do not need, it will still consume your time. Choose a parser with a configuration feature that allows you to enable/disable the data fields as per your requirement.
Also Read: RChilli Promotes Unbiased Recruitment with its Configuration Feature
Are you facing these challenges?
If yes, feel free to schedule a call with us, and we will be happy to answer your queries.