Why Filling Up Job Applications Sucks?
August 28, 2018 by Vinay Johar
Candidates were not happy with Samantha's recruitment process. Read to know why they were leaving job applications mid-way and how Samantha got answers to her problems.
I happened to meet Samantha, the HR head of a leading company, over a cup of coffee. While we were talking about the latest in HR space, she shared one of the emails sent to her by a candidate.
It read:
Dear Samantha
I applied for a job position on your company's website which took me almost an hour to complete.
Why does your system want me to fill each resume detail when I have already uploaded my resume?
It doesn't make any sense.
Thanks
Mark
Samantha couldn't understand why the candidate reacted this way. After all, that's how recruitment works.
I knew where the discussion was going. So, I told Samantha to apply for a job on her company's website and feel the candidate experience.
And this is what happened:
She logged onto the company's website

.

The company's ATS prompted her to

create an account

.

She selected a job and clicked on

'Apply'

.

Then, she was asked to

upload her CV

.

But this wasn't the end. The system wanted her to

upload a cover letter and her work samples

.

She did it and was about to relax in her chair when the screen displayed a large form asking her to

fill in her education details, contact details, personal details, experience details

… and the list was endless.

Samantha looked at me, and her reaction was this: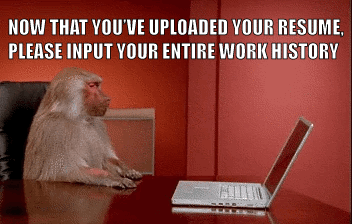 She realized that her company was delivering a poor candidate experience. That was the reason the candidates were leaving the company's website and its job applications mid-way.
I asked her three questions:
1. How do you shortlist candidates?
Through their resumes

Picking them up randomly

First come first serve
She replied: Of course (a). Through their resumes.
2. Why do you ask candidates to upload their resume on your company's website?
To know about the candidate

That's the protocol

Just for the heck of it
She smiled and said: (a). To know about the candidate.
3. If you know about the candidates through their resumes, what is the purpose of asking them to fill in details of their education, experience, contact details, personal details, etc. separately?
I want to annoy them.

I want them to bang their head on the wall.

Well, I don't find any reason.
Samantha couldn't reply. She just realized she was making the mistake of her life.
She knew that the traditional recruitment method wouldn't work anymore. But what should be done?
Automation seemed to be the only solution. One of her colleagues suggested that they needed all data fields of a resume so that they could easily search them in their ATS/ERP.
I said, 'Well, the solution is simple, and it is the latest HR technology. Using an enriched resume parser is the end of this trouble. A resume parsing software extracts candidate information from the resume and saves it in data fields. Once your ATS has a resume parser, it just requires the candidates to upload their resumes and the fields will be populated automatically. Also, your search is not broken.
The end result:
Quick resume submissions

Faster recruitment process

and happy candidates!'