RChilli now adds the Thai language to the list of languages supported by its resume parser to strengthen its multilingual capability.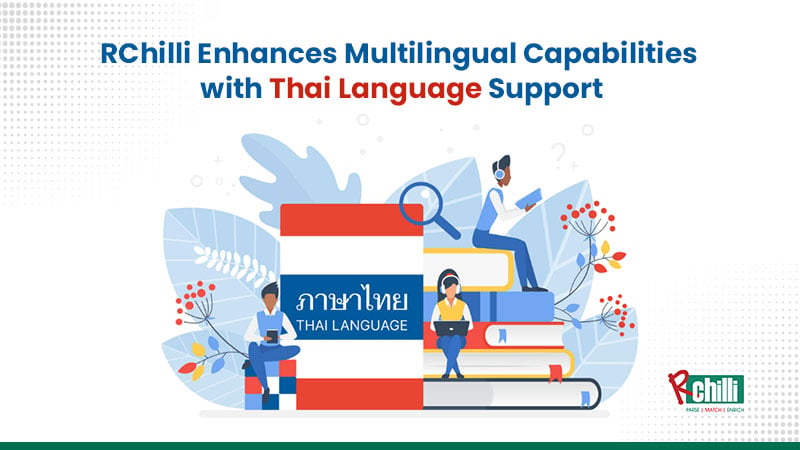 RChilli, a leading provider of parsing, matching, and data enrichment solutions, has expanded its language capabilities by adding Thai to its list of supported languages. This recent addition comes after the successful inclusion of Hebrew, showcasing RChilli's commitment to enhancing its global reach and multilingual functionalities. By incorporating Thai parsing capabilities,
RChilli aims to enable users in Thailand to leverage its services and witness impressive results firsthand. With Thai being widely spoken and written in the region, this new addition enables RChilli to provide more accurate and efficient parsing of resumes and jobs, enhancing the overall user experience.
The inclusion of Thai in RChilli's extensive list of supported languages also strengthens the company's global reputation, positioning it as a reliable and versatile solution for businesses operating in diverse linguistic environments. Furthermore, this expansion showcases RChilli's dedication to empowering organizations with advanced automation tools that transcend language limitations, streamlining recruitment workflows on a global scale.

With existing support for over 40 languages, RChilli continues to solidify its position as a comprehensive multilingual resume parsing solution.
Here is the list of languages it supports.
English
German
Polish
French
Spanish
Turkish
Portuguese
Japanese
Hebrew
Thai
Italia
Dutch
Chinese(Simplified)
Russian
Indonesian
Arabic (Right to Left)
Danish
Swedish
Korean
Romanian
And a total of 20+ more languages
Paramdeep Singh, Head of Marketing at RChilli, emphasized the company's dedication to enhancing multilingual functionality, stating, "Empowering our products with advanced multilingual capabilities has always been a top priority for us. As an organization, we aspire to reach every corner of the globe, offering users the opportunity to experience the power of automation. Adding Thai to our list of supported languages is yet another stride towards achieving this objective."
To learn more about the languages supported by RChilli, visit https://www.rchilli.com/languages
About RChilli
RChilli is the trusted partner for parsing, matching, and data enrichment, providing companies, in 50+ countries, with solutions built for the future of technology and recruiting. RChilli's innovative products, backed by an industry-leading tech stack, power the processing of 4.1 billion+ docs yearly for 1600+ top global recruiting platforms. Enabling companies to hire better talent faster since 2010, RChilli is ISO 27001:2013 and SOC 2 Type II certified and GDPR compliant.
RChilli also has its multilingual resume parsing app available on Oracle Cloud Marketplace and Salesforce AppExchange.
Source: RChilli resume parser parses resumes & jobs in the Thai language.