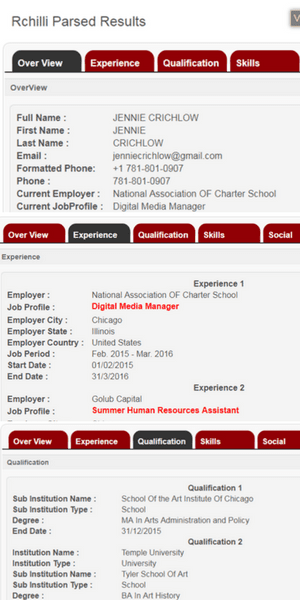 A resume parser program is undoubtedly the modern recruiter's best friend. This software enables recruiters to work as efficiently and perfectly as possible. Recruiters understand that their skills, competencies, and keen eye for detail will limit their possibility to grow. There will come a time when they need additional help if they want to remain on top of the competition. In the same way, hiring companies acknowledge that they are too busy with their main line of business, too busy that they cannot spend too much time and resources for the recruitment process.
It is safe to say, therefore, that resume parsing is here to stay. It is an ingenious piece of technological development that allows recruiters and hiring companies to make the most informed decision for hiring talent. RChilli, one of the leading recruitment analytics solution providers, makes it easy for an effective and efficient hiring to take place.
Less errors are made with the software automatically populating the candidate fields. Instead of manually encoding – and making incorrect inputs – the system eliminates this possibility for error, also saving time on the side. Hiring companies will experience the ease and comfort of letting the system do the matching. All they have to do is look into the results of RChilli's system, and conduct interviews from the selected pool.
Work becomes much faster, allowing more time for other activities. Companies still need to make money through their main line of business, and RChilli's resume parsing gives them the freedom to set more time for income generating activities. The hiring process does not end up on the sidelines; it is simply taken care of by a fully operational and automated system. RChilli does this magnificently.
The best part about RChilli's resume parsing abilities is the consistency that it provides. Millions of resumes can be parsed in a single day, without compromising quality of the search results. Recruiters know that manually, this amount of work can never be squeezed into a single day, let alone be done with 100% accuracy.
Recruitment comes at a very opportune time with RChilli. Companies do not need to worry about spending too much time, money and resources in order to get the best available talent in the market. Similarly, applicants are assured that they are given equal chances of being hired; applicants will be accepted according to the skills they have. Truly, resume parsing services are here to stay.