Five Aspects of the Recruitment Process HR Managers Should Focus On
May 24, 2021 by Navjot Kaur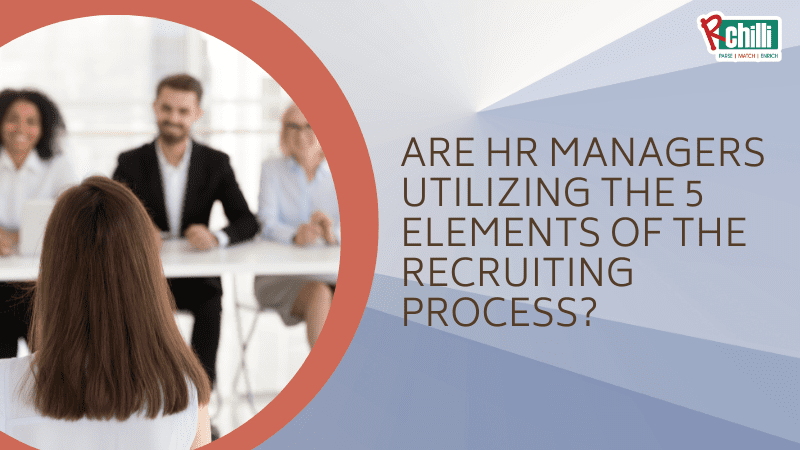 What are the five aspects of the recruitment process should HR managers prioritize and focus on for maximum effectiveness? The article stresses the need for HR teams to keep up with the fast-paced changes and overcome the challenges to ensure an organization's growth.
The recruitment process is one of the significant responsibilities of HR departments. However, the intense work of these guys does not end with signing a contract with a new employee. Employee engagement, development, onboarding, training, statutory compliance, data management, and numerous others activities require attention and effort.
Besides, the current Corona crisis has changed the routine and resulted in 'the future of work' both for employees and employers. The new normal has brought some novelties and speeded up the process so that HR teams face unique productivity challenges and drive better business results.
Let us look at 5 aspects of the recruitment process that all HR managers should pay attention to be 110% effective.
1. Job Description Crafting
Regardless of what the HR team does and their approaches, the fundamental goal is hiring the right fit. And it starts with attracting the right talents.
A compelling, engaging, and inclusive job description combines some marketing, sells your brand, communicates the requirements, and urges job seekers to act simultaneously. After all, a job description is the initial and most valuable hiring tool. Here are some details to pay special attention to while crafting a job description:
A job title should be specific
A job summary should be clear, attractive, and detailed
Core responsibilities and day-to day-activities should be carefully outlined
A concise

list of soft

and hard skills you envision for a successful hire should be included.
2. Selection and Recruitment
It is a challenging and time-consuming process to find a perfect employee for the organization. Thus, a selection process based on screening and filtering numerous CVs with the added advantage of multiple job portals contributes to choosing the most qualified candidate for the role.
The most widely applied requirements for the selection process are knowledge, skills, abilities, and other characteristics. Therefore, standard selective tools like aptitude tests, knowledge tests, personality tests, structured interviews, and data collection are widely applied to identify and measure these metrics effectively. That is where HR technology takes the stage. Tools like resume parser help the HR teams speed up the recruitment process by extracting complete information from the resumes and saving it in the data fields such as education, experience, skills, etc. This keeps their time in screening candidates.
3. Interviewing
COVID-19 has influenced the normal state of things. Facing the new normal of our lives and the job market, interviewing has shifted its priorities as well. Thus, virtual interviews, trial periods, and advanced tech options are now taking a central part.
Making recruitment decisions require a solid background and reliable data. Data-based decision-making is a crucial step toward diminishing recruitment bias.
To make the interviewing process smooth and effective, consider the following options:
Application of AI-powered solutions for evaluation and screening to reduce biased decisions;
Reinforcement of the employers brand via communication of company goals and values;
Deep understanding of STAR techniques to read between the lines of common interview questions and answers;
Testing candidates' standard skills to avoid being tricked by the storytelling approach to interviewing.
It is impossible to make a good hire and get a perfect employee if you don't go deep enough with a candidate. Thus, most importantly, consider refocusing the time and energy saved on interviewing.


4. Training and Development
The challenges of upskilling and reskilling have now occupied a firm position on the daily to-do lists of HR teams. A rapid shift to remote working in 2020 initiated this trend, and 2021 will continue the tradition.
From navigating new technologies and communication tools during the first weeks of pandemics, we are now moving to sustainable reskilling and upskilling programs for employees to address evolving issues and for businesses to remain competitive.
Follow these simple rules to ensure your training, upskilling, or reskilling program success:
Assess the learning needs
Align the need with business goals
Set goals and relevant metrics.
Blending a few delivery methods and approaches to employee training and development can provide workforce effectiveness and business growth.
5. Digital HR Strategies
Digital HR transformation is now more relevant than ever before.
Changing standard HR procedures to be more automated and data-driven is natural. Video calls and professional messaging software are the most vivid and widely applied examples of these changes defining the new normal.
For HR teams, this new normal means fast adaptation and rethinking of the traditional methods and techniques of recruitment, onboarding, and retaining employees. Thus, having relevant knowledge of digital transformations is among the top priorities for HRs to continue working efficiently.
COVID-19 has already changed the world. These changes are okay, despite the pace they are happening, which adds some frustration and stress to HR work.
Another smart HR strategy is using the services of an Employer of the record (EOR). An Employer of Record is a company that will take over all employee employment responsibilities.
HR teams should keep up with this pace and not miss something in this haste. Therefore, the article highlights five aspects of the recruitment process to focus on and work on despite numerous distractions. They will help overcome challenges, improve, become more efficient, and guarantee an organization's growth.
Guest Author- Erika Rykun, Copywriter & Content Marketer. Solo blogger at Medium