Why Resume Parser is Still Your Recruitment Software's Best Friend?
September 30, 2020 by Snehil Sharma
A decade back, when I was in my last year of graduation; I still remember me and my friends were attending a seminar arranged by our university on how to write a perfect resume. These were those days when students thought that buying expensive paper to print your resume will be enough to attract recruiters. We spent our days and nights trying out different fonts and formats to make our resume more attractive. Yet all the advice I have got from the books and the seminars boils down to one short phrase, i.e., making my CV stand out.
In those days, it meant that your CV would have to make itself visible amid stacks of hundreds of other printed CVs. Thankfully, recruitment has changed. CVs or resumes are stored digitally and increasingly fed through automated recruitment software.
Recruitment is not an easy task to do in an era where we are surrounded by technology. HR professionals have started including ATS in their process long back. I believe if your Applicant Tracking System isn't helping with new trends, it's time to look for a new tool like a resume parser that can help to improve its functionality.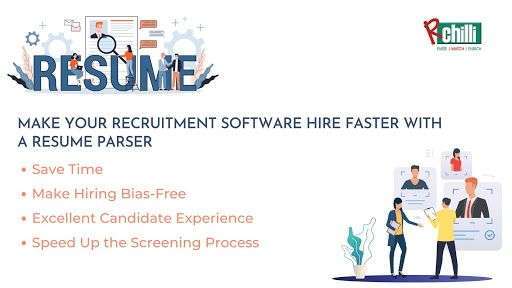 Let's jump in and find out how resume parser is an essential feature for an ATS. What are its features and benefits?
A Scalable Parsing Solution:
1. API Integration:
The major put-offs for candidates are your complicated login pages, lengthy forms, etc. This can affect the branding of the organization. With the help of a resume parser, HR professionals can facilitate applicants with the easy and quick submission of their application.
2. Allow Bulk Upload:
With the help of a resume parser, there is no need to parse resumes one by one. It allows HR professionals to upload resumes in bulk and parse multiple resumes in one go.
3. Offer Email Inbox Integration:
Resume parser has an amazing feature that offers email inbox parsing. It fetches resumes/CVs from your emails and stores the candidate information into the fields.
4. Remarkable Configuration Feature:
With a resume parser, HR professionals can choose to exclude the data they feel can cause bias in the recruitment process. HR professionals can identify the data fields and have the option to enable/disable fields as per the requirement.
Read to know more: RChilli Promotes Unbiased Recruitment with its Configuration Feature
5. Provide Executive/Management Summary:
Resume parser allows HR professional's to evaluate candidates just by reading the synopsis of resumes as a summary.
How Does a Resume Parser Help an ATS?
Save Time:

Resume parser saves HR professionals' time spent reading each resume and cover letter that comes across their desk.

Make Hiring Bias-Free:

The resume parser offers an option to switch on only those fields for which the HR professionals need information. HR professionals can customize the output according to their preferences. Through this, HR professionals can eliminate unintentional bias when looking at the resume.

Excellent Candidate Experience:

It offers candidates to submit their resumes within a few seconds. With a simple upload, the resume parser will automatically populate the fields. As a result, it simplifies the application submission process and improves the candidate experience.

Speed Up the Screening Process:

A resume parser parses the resume data in real-time and gives the output in a structured format. This helps HR professionals in closing more jobs quickly and speed up the recruiting process.
The right candidate is out there. A resume parser tool can help you find them faster. It streamlines the entire recruitment process. Time and money are saved in bringing a uniformity into the process that focuses on other areas. If you aim to improve your productivity and efficiency, it's time to go hand-in-hand with technology.
See how you can make your ATS more efficient with a resume parser.
Editor's Note: This article was originally published in December 2016 and has been completely revamped and updated.