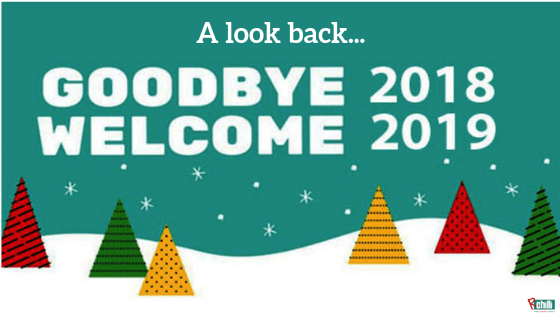 As 2018 is all set to say goodbye to us, we, as a company, look at it with great pride and a sense of fulfillment. It has been an excellent year for us. A year full of learning, achievements and new partnerships!
We want to share what we did in this year, what were our major accomplishments and where are we heading towards.
Our Customers Are Our Strength

We are proud to build an association with leading companies on a global scale. It feels great to work with
Carmen

PeopleStrong

HigherEDJobs

Intrideo by Socy Inc.

Mercy Ships

TopPick

TalentNet Inc.

XenonStack

Agile Workplace Staffing

And many more


Exploring the Industry All Over the World
This year proved to be a roller-coaster ride for us as our team kept on traveling to attend HR tech events. These events were an excellent platform where we got an opportunity to interact with thought leaders and leading HR professionals. We not only gained knowledge about the latest happenings in the industry but we also educated our peers on HR technology by becoming a keynote speaker at the events.
We are glad to become a part of these events:
HRTechTank, San Francisco

HR Tech, Las Vegas

HR Tech Summit, Toronto

HRTechTank, Singapore

HRTechTank, Sydney

HRTechTank, Boston
Apart from attending events and conferences, Vinay Johar, CEO of RChilli, participated in the 'TiE Virtual Mentoring Circle' as a mentor. It was an encouraging session for the attendees. Vinay talked about channels for generating a sales funnel and also understanding customer persona.
Popular Case Studies
With our recruitment analytics solutions, we are helping our customers get the best out of their business. Here is how our solutions simplify the work of our clients.
How impress.ai got impressed by RChilli's resume parser?
When Brainhunter delivered the best talent to its clients through RChilli
RChilli & Gr8 People- A Great Association!
Popular Blogs
At RChilli, we ensure to educate our audience through our regular blog posts. Check out the most popular blogs of this year.
Top 7 Influential Women in HRTech Industry
Top 3 Case Studies Showing AI Power in Simplifying Recruitment
How Resume Enrichment Helps in Building Better Search Engines?
Find Top Talent with an Enhanced Keyword Search
Amaze Yourself with Our Resume Parser
Why Filling Up Job Applications Sucks?
New Introductions
RChilli introduces RScript, a web plugin, which will reduce a resume parser's integration time from two hours to two minutes. Usually, users need an API call to start using a parser, but this plugin brings a major shift in the integration process with ready-to-use JSplugin. Create a Go-To-Market strategy from a parser to a web page in less than 5 minutes with a simple JScript.
We are soon introducing the world to our enrichment marketplace. Stay tuned!
We trust 2019 will bring in more achievements and milestones to cherish.