HR Tech Conference 2023: Mark Your Calendars for Las Vegas!
September 12, 2023 by Navjot Kaur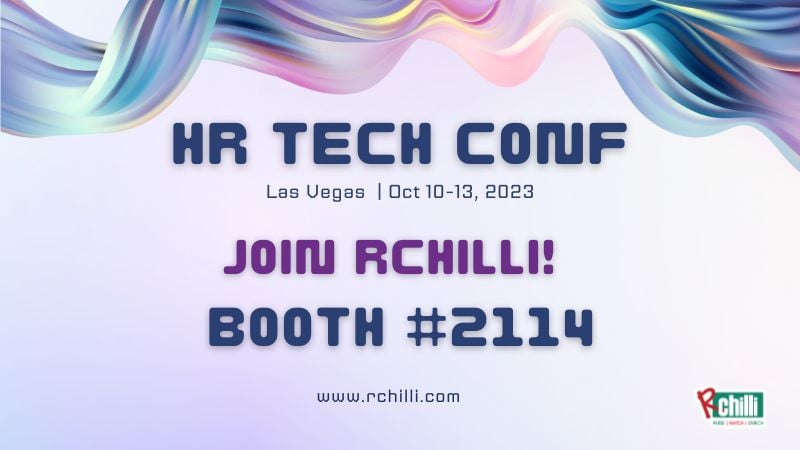 Mark your calendars and prepare for a blockbuster event because the hottest HR Tech extravaganza of the year is gearing up! It's not just an event; it's an experience that promises to rock the HR tech world.
And who's shining at the center of this tech spectacle? None other than RChilli! We've secured Booth #2114 at the HR Tech Conference, and we're bringing our A-game.
Why You Absolutely Can't Miss HR Tech Conference 2023
Networking Extravaganza: Rub shoulders with HR pros, tech wizards, and visionaries from around the globe.
Cutting-Edge Tech Delight: Immerse yourself in the future of HR tech. AI, machine learning, automation – it's all here, and it's all amazing.
Inspiring Keynote Speakers: The lineup is lit! Prepare to be inspired by HR gurus who've shaped the industry. Your future self will thank you.
Interactive Workshops: Dive into workshops that are as hands-on as they come. Learn today, apply tomorrow.
Industry Insights: Stay ahead of the HR curve. This conference is your backstage pass to the latest trends, challenges, and solutions.
This year, HR Tech Conference 2023 is set to redefine the HR tech game. Don't miss out on this whirlwind of innovation and excitement!
Mark your calendar for October 10-13, 2023, and make a beeline for booth no. 2114. We've got something special brewing for you in Las Vegas. Stay tuned for updates – the stage is set, and we can't wait to see you shine!
RChilli Unveils Pioneering AI-Powered Solutions at HR Tech Conference
RChilli is proud to showcase a range of groundbreaking AI-powered products at the HR Tech Conference this year. These innovative solutions are set to redefine the landscape of human resources and talent acquisition.
Deep Learning/AI Framework that identifies complete information from resumes and jobs. Works with global languages and easily connects with every technology.
Redact resumes in real-time and remove unconscious bias from hiring.
RChilli's engine uses machine learning to precisely match job openings with qualified candidates.
Our suite of Plugins includes Resume Templater, Document Converter, NER Tagger, and Contact Extractor.
RChilli Taxonomy offers a comprehensive collection of skills and job profiles, along with their related information.
Refresh your candidate database through RChilli's data reprocessing services. Ensure your candidate information remains enriched and current, facilitating swift and precise talent acquisition.
Our service ensures glitch-free transfers from the old ATS to the current one. We simplify onboarding and bulk imports while safeguarding structured data migration.
We invite you to visit our booth #2114 at the HR Tech Conference to experience how these AI-powered solutions can transform your HR operations and take your talent acquisition strategies to the next level. Join us in embracing the future of HR technology!
Let's connect at the event and engage in meaningful conversations surrounding the dynamic HR Tech landscape.