Resume Parsing: 6 Most Frequently Asked Questions And Answers
September 20, 2022 by Tania Doshko
You might have heard the term "Resume Parser," sometimes known as "Resume Parsing," "Résumé Parser," "CV Parser," "CV Parsing," or "CV/Resume Parser."
Undoubtedly, those who want to understand resume parser or looking for some resume parsing options will have numerous questions.
Here is the list of some most frequently asked questions and their answers about resume parsing.
Remote job opportunities are getting more and more popular in recent years. Around 65% of employees work remotely, at least from time to time. Thus, for instance, 36% of crypto jobs promote remote possibilities, which is more than double the projected global average of 16% across other employment sectors.
With such a rise in remote job opportunities, more and more candidates have a chance to compete for a position online. Zety research maintains that employers receive approximately 250 applications per position. Dealing with such a significant number of applicants is no easy task.
Thus, there is a great need for tools that could help sieve through and sort these applications effectively. These tools may vary from resume parsing aptitude assessments to personality tests, cognitive ability tests, etc.
This article will discuss resume parsing in more detail and answer the top 6 most frequently asked questions.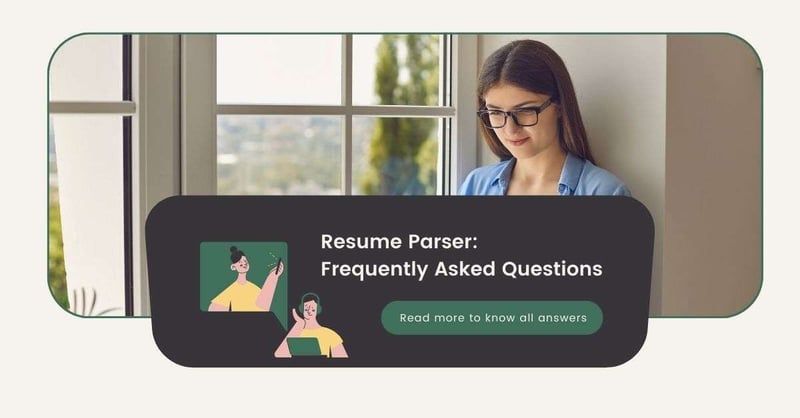 What is resume parsing?
Resume parsing is a tool designed for automated tracking systems (ATS) that helps scan, analyze, extract and store information from resumes.
Parsing tools help automate resume screening process, freeing up the recruiters' time and allowing them to concentrate on other processes. According to Select Software Reviews, companies using AI increase their performance by 20% and revenue per hire by 4%.
How does a Resume Parser work?
Let's share the working of a resume parser with the following steps:
A candidate visits the career page of an organization.
He/She applies for the job by clicking on the 'Submit Your Resume' button.
The resume is uploaded to the company's ATS
The resume parser reads, analyzes the resume and extracts the candidate data from the resume.
The parser sends the structured data in the form of data fields into the company's ATS/CRM.
The recruiters can quickly shortlist candidates based on the structured information and find candidates who match the job position.
How much does parsing cost?
The pricing for resume parsing varies and depends on how many documents will be parsed or how many users will utilize the tool. Many parsers can be tried for free to see what suits your needs best and which offers better accuracy.
It is believed that expenses on parsers are worth it, as a good parser tool saves a lot of time and can perform more than an individual doing the same thing manually.
How to prepare a resume parser-friendly resume?
Making the resume ATS-friendly is as crucial as putting relevant information. This way, a candidate can ensure that a recruiter will get readable information and spike the chances of getting noticed among other candidates.
According to Top Resume, 75% of resumes don't make it to the recruiter, meaning they get sorted out by ATS.
ATS tools read from right to left, from top to bottom, so the information should be placed as it were for a human. The name should be on the top, and the work experience should be indicated, starting from the most recent position.
Parsing tools are programmed for chronological or combination formats. A functional resume may confuse the program when extracting certain information. Knowing these tiny details may help the candidate avoid confusion and losing a chance for an interview. Here are a few tips for creating resumes for perfect parsing.
How to use keywords?
What ATS tools do is they scan resumes for specific word combinations as a recruiter would do. Defining what keywords may be in the given job vacancy is essential. These could be hard skills, such as some coding languages, or soft skills, such as adaptability, responsibility, and flexibility. It may even be the job title itself.
Depending on the field, some specific education or certification may be required. For example, teaching and medical spheres would require certain certificates or licenses.
Reading the job ad carefully is an advantage, highlighting the words (skills and qualities) that are repeated more than once. It would be beneficial too to put the keywords in the context so recruiters could see the degree and relevance of the skills and qualities sorted by ATS.
Why is it beneficial to use a resume parser?
Using a resume parsing tool may bring lots of benefits if utilized wisely. First and foremost, such tools help optimize and save money and time, which are valuable resources. A good parsing tool allows recruiters to concentrate on interviewing candidates with relevant skills and experience and choose the best out of the pool of applicants.
Secondly, the tool allows keeping all the resumes organized and in order. Moreover, relevant people can access it from various devices and locations. Thus, it provides better accessibility to data and its storage. Companies have an opportunity to be more flexible and have a wider choice of prospective employees.
Thirdly, it is easier to set transparent and fair standards using resume parsers. They certainly help eliminate unconscious biases that people might have and choose candidates based on the same pattern. Thus, the selection process is alike for all the candidates.
Conclusion
Resume parsing tools are a fast-developing technology aimed at easing the hiring process for companies and candidates, saving up key resources. It is essential to move with time and use the best modern technology in a particular field, significantly if these tools help improve the quality of work and increase profit.