RChilli's Views on HR Technology: May'19
May 30, 2019 by Vinay Johar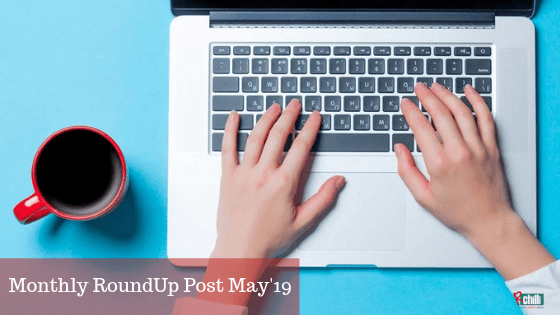 Did you miss our blogs, articles, and other content published in this month?
No worries.
Check out this roundup post which provides an overview of our latest articles written on HR Technology.
Would you like to read what we published in May?
Blogs
RChilli to Exhibit in HR Festival Asia, Singapore
HR Festival Asia was a one-of-its-kind event held in Singapore. RChilli exhibited in this event and sponsored an award. Read this blog to know which award we sponsored and what made HR Festival Asia a perfect platform to exhibit your products.
Top 5 Unique Features of Our Resume Parser
Which features would you like to see in a resume parser? Do you want to explore the true potential of a resume parser? Read this blog to know the secret that makes our parser unique and one of the best in the industry.
Key Takeaways from HR Festival Asia, Singapore
This blog is an overview of what happened at HR Festival Asia. Check out what the speakers emphasized upon, who won at the pitch-fest and what did the attendees gain from this event. Also, read to know who won the RChilli 'Best Use of Technology' award.
How to Make Your ATS Better, Faster and Stronger?
A good ATS should offer an amazing candidate experience, enhanced functionality, and an advanced approach. Read this blog to know how the best recruitment analytics solutions can help your ATS deliver all these through automation.
LinkedIn Pulse
You Might Want to Turn Passive Candidates into Applicants
How can you refresh your old resume database and utilize the same in closing the current job opportunities? Curious to know? Read this article and gain insights about how to manage passive job seekers with the help of technology.
The Power of Social Media in Recruitment
Every recruiter makes it a point to take advantage of social media while creating a recruitment strategy. Check out how you can utilize the power of social media while hiring candidates and which are the best tools for social media recruiting.
Top 5 Job Search Statistics/Trends You Should Know
What are the current job search statistics? What are job seekers looking forward to, and what is the approach they are using to find a job? Are you interested to know? Read this article and learn about the latest trends in recruitment.
White paper
What's the Buzz About Marketplace?
Want to enrich your data? How about you meet all the data connectors at a single platform? Check out this white paper to know how a marketplace can help you in enriching your data.
Would you like to see how we put our opinions into practice? Contact us to know about our latest offerings.